Our Interactive DJs will keep them busy the entire time! Choose one of our party packages and you'll be pleasantly surprised by our affordable rates! We set up 1 - 2 hours in advance of our start time (no charge for set up) and start out strong with games like the LImbo, Hula Hoop contest, Freeze Dance, Lip Sync Contests, and so many more fun games. Line dances like The Whip, Cupid Shuffle, Cha Cha Slide, Gangnam Style and more will keep the party going. Modified Karaoke and Live Projection give the kids a chance to "see themselves on TV" while they sing and dance. 'Tweens are ready to step up their entertainment. Karaoke and Live Projection keep things interesting. They love the games and contests and dances like the Wobble and Whip. They're big on requesting songs, so our DJs are prepared for whatever they throw at them! (Clean versions of current song ) Call us to reserve your date now at 407-792-4631!
We play exclusively their music - just give us your playlist! An interactive DJ is essential at a teen party and our affordable rates are a bonus! Dance lights, Karaoke and a Photo Booth will really make the party special! We've done hundreds of Sweet 16s, Quinceañeras, Graduations and Birthdays! Customize your own party package! Click on the Sweet 16 & Quinceañera button above for more information. We're available in Orlando, Florida and most of central florida.
Call us today! 407-792-4631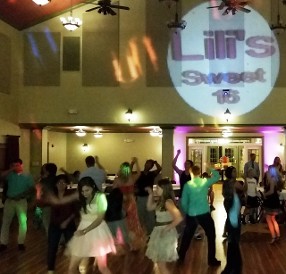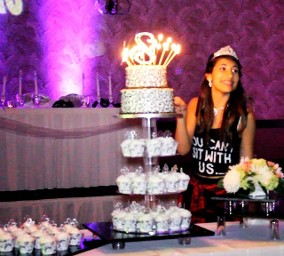 Celebrating a milestone birthday is great but planning the party can be a daunting task! Let us bring in the DJ, Karaoke, Trivia, Lights, Photo Booth and Video to make your big day a hit! Whether you're Over The Hill or 'still climbing'... we can make your party a success! Adults love our Trivia game, and we'll customize it to apply to you or events during any special time in your life. (You don't have to think up the questions- we make it easy for you). What could be more fun than singing the karaoke songs or dancing to the the hits that were popular when you were in your hayday? Make this your best party yet! Call Music Mania Events at 407-792-4631 to help you plan and provide everything you need to entertain your guests.

Your Fun is Our Business!
Whatever you desire, our experienced interactive DJs, Karaoke Hosts, Trivia Gurus and Live Entertainment professionals deliver! Customize your unique party package to suit your group.
Our DJs will entertain Adults, Kids and Teens - and we always bring music for all ages in all styles.
We know preparing for your event is just as important as performing at it, so we are happy to work with you in advance on song selection, announcements, itinerary, co-ordination with venue staff and set up requests. Call 407-792-4631 to reserve your date and time.